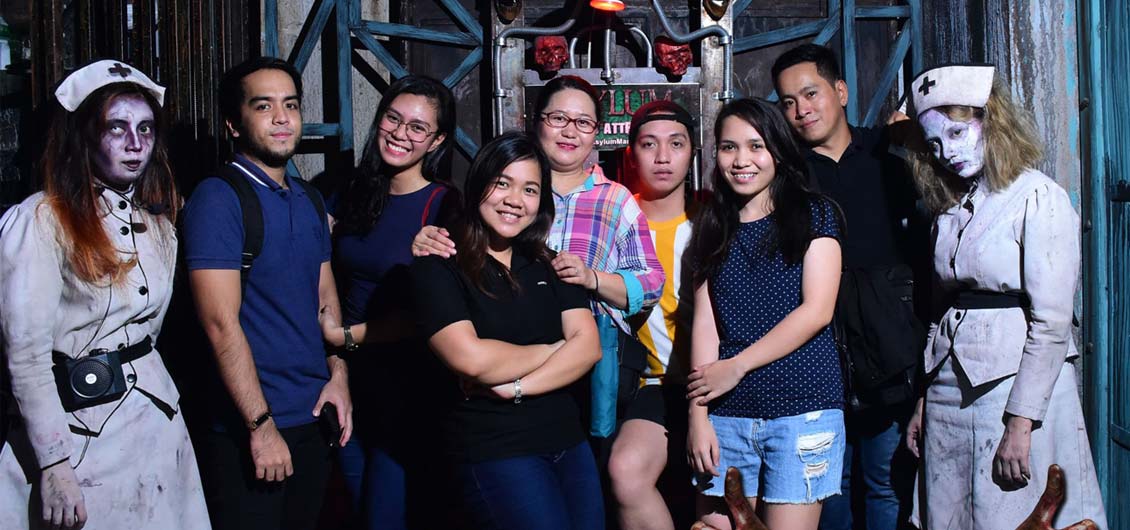 The Manila's newest haunted house attraction is now open!
Yes, you heard it right. Here is some helpful information for fearless folks like you and me.
Asylum is a three-story walk-through dark attraction. It is filled with daunting live actors, fifty (50) different Hollywood and locally-themed rooms, and high-quality special effects. It is based on the true to life story during the 1930s. Asylum is a premier psychiatric institute for criminally insane. Dr. Vanicutt is the head of the place.  After the mysterious and tragic accident of Dr. Vanicutt's wife and the loss of his daughter, he sunk into a state of madness and insanity. He tormented his patients and conducted several inhumane medical experiments. Evil has consumed the place. People say that Dr. Vanicutt is still there. He is torturing his patients, doing bloody experiments and collecting their unfortunate souls.
Ticket prices
Tickets are available for purchase at the ticket booth or book online. They accept cash and credit cards.
Weekday (Mon-Thurs): Php 699
Weekend (Fri-Sun): Php 799
VIP PASS (no waiting – front of the line): Php 1,200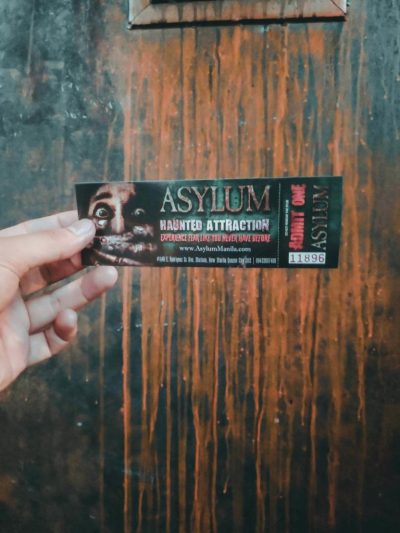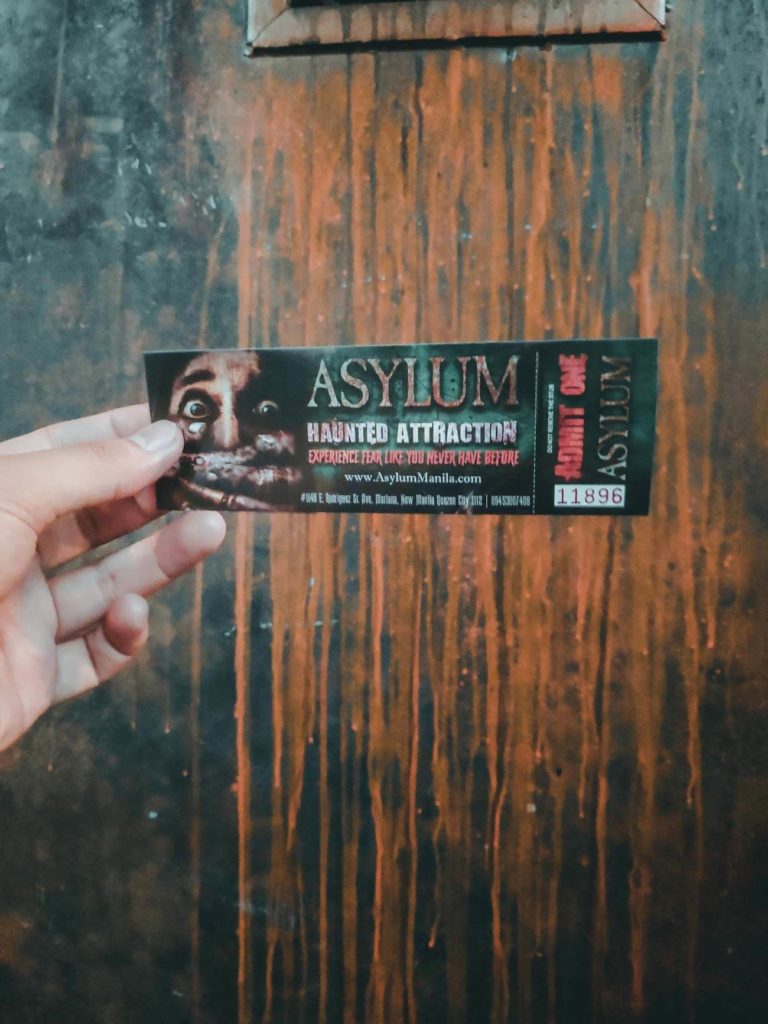 Student Price
Weekday (Mon-Thurs): Php 599
Weekend (Fri-Sun): Php 699
For group packages, deranged fun, events, and parties, you can call:  09453007408, 09453007404, 09474612808, 09474612707
Email: [email protected].
Special Birthday Treat
Is it your birth month? Enter for free! A minimum of five (5) full-paying guests and enter for free plus your choice of a free T-shirt or souvenir photo.
Isn't that everybody loves discounts? That includes me!
Check and book at Klook for special discounts. We got the weekday ticket from Php 699 to Php 499!
Another, get up to 3% cashback on your total booking using shopback! Check this out to find out more about shopback.
How to get there
Location: 1148 E. Rodriguez Sr. Ave, Brgy. Mariana, New Manila, Quezon City (in front of Christ the King Church)
From south:
a. Take the PNR train
To save some time, take the train. We came from the Alabang station going to España which costs Php 15 only. You can click here for the different PNR stations and ticket fares. It takes you an hour to get to España station.
b. Ride a jeepney going to Cubao (Php 12)
It is a 10 to 15 minutes ride to reach Asylum Manila that is across Christ the King Mission Seminary.
An alternative is to take a bus at Starmall Alabang going to Cubao but the estimated travel time is 2 to 3 hours depending on the traffic.
From Cubao:
a. Ride a jeepney going to Quiapo
It is below the LRT Cubao Gateway. Ask the jeepney driver to drop you off at Christ the King.
Waze/ Google maps: search Asylum Manila 
There are parking slots allotted for Asylum Manila inside Christ the King Church for a fee of Php 50.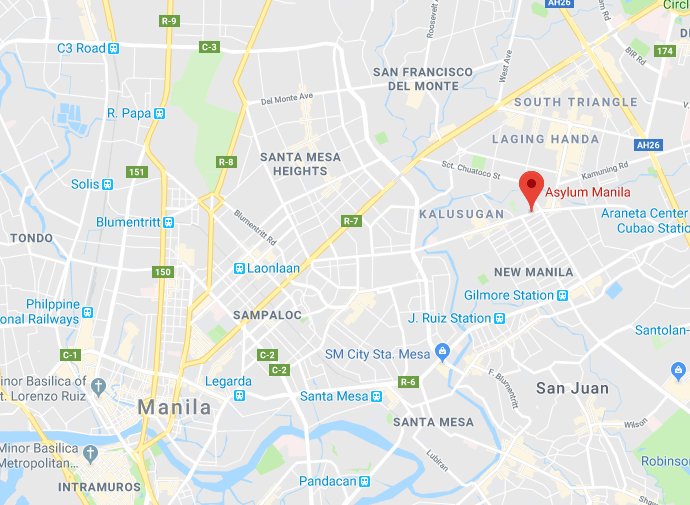 Tips and Review
Opening hours: 4:00 pm to 12:00 am, daily (last admission is 11:00 pm).
1. Expect a long line.
Since their opening hours are limited, expect a long line. Therefore be there at least an hour early of your booking time. There's a tent outside so don't worry about getting wet. There is also a snack bar inside for hungry tummies.
2. It is hot inside. 
The place is fully-airconditioned but disappointingly hot during our visit. Adrenaline-rush adds up so I am hopeful that they will improve the airconditioning facility for a better experience.
3. Wear comfortable clothes.
Dress lightly and comfortably. There are stairs, slide, and narrow paths so avoid wearing high-heels and jewelry. Small bags and purses are allowed, but large ones are not.
4. Many scary live actors and rooms.
The prosthetics of the live actors are impressing!
There are actors outside wandering throughout the waiting crowd trying to give them some goosebumps.
The last-minute reminders will be provided by some insane-looking nurses. Upon entering, there's a creepy big guy guiding you through an old service elevator. You'll feel fear uprising as you wait inside the service elevator. Exciting right?
The actors are not allowed to touch you, so don't touch them either. There are heart-throbbing sound effects, fifty dim lighted rooms filled with grotesqueries with hanging corpses, extracted organs, tortured patients, and more for you to discover!
If you are a horror movie fanatics, you'll see some familiar characters inside. Trying guessing them!
It takes 45 minutes to an hour in finishing the walkthrough.
5.  Taking pictures is not allowed
No pictures or video is allowed inside.
Don't worry there are creative Instagram worthy rooms set up for photo ops after the nerve-wracking walkthrough. The photos will available on their photo booth and each photo costs Php 250 each. It comes with a nice hard-bound frame and instructions on how to get the softcopy online.
This is a two-thumbs up for us! If you want to experience some fun-thrilling experience, this is perfect!
Dare your friends, brace yourself, and get ready to be check-in patients. Go and grab your barkadas and try Asylum Manila now.
Price

Convenience

IG Worthy

Staff
Don't forget to leave some comments and share your experiences with us.